Let me start off this entry by saying I am not one to point fingers.  I like to observe and share my observations, but I do not think that I am some arbiter of bike culture, if there is such a thing as bike culture.  I try to be funny on this blog occasionally and rarely achieve what could be categorized as success.  I also wear a helmet mirror and I think that probably takes me out of the running of being invited into any "cool" group of cyclists.  I do like to be among living cyclists and a helmet mirror helps me to know if 2,000 pound missiles on wheels are bearing down on me. 
Having said all this, over the years the recumbent cyclists I have met have proven to be a unique breed of cyclist.  I guess it's like any small group within a larger culture - there is a bit of an inferiority complex or something that causes recumbent cyclists to talk at length about the benefits of their whip. 
I remember being on a group ride once where I was talking to my wife about a Bike Friday that had just gone by us.  She was asking about the wheel diameter and its impact on riding and I began to offer my comments when  a recumbent cyclist pulled alongside us.  Before I knew it, the recumbent cyclist had jumped into our conversation mistakenly thinking we were talking about his bike. 
I let him talk for about 3 minutes uninterrupted and when there was a pause I said something like, "Wow, that's all nice, but we were actually talking about a Bike Friday."  A blank look came over his face and he dropped back. 
Last week we featured an entry on pie plates and chain guards, and in another entry focused on a recumbent fender hack I noted that we have had very few recumbent cyclists contribute hacks over the years.  Reader Leo is a one man army at present and is doing his best to supply us with some recumbent content and sent along a link to the following picture posted to the Photobucket Account of Poiter H -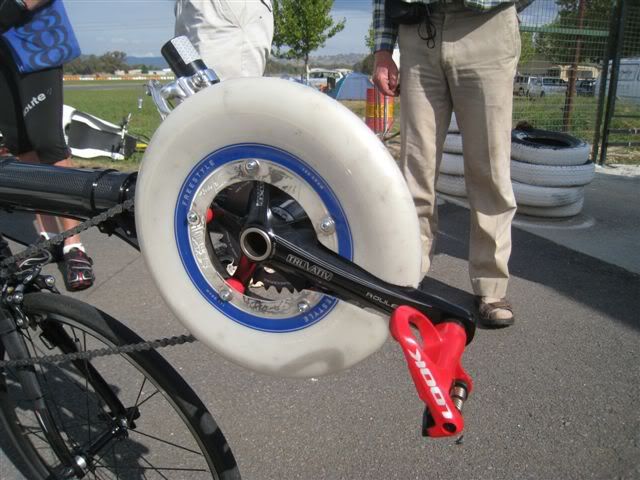 I am both not surprised and very impressed at the same time =) 
One man's helmet mirror is another's Frisbee. 
Thanks Leo.  Other recumbent cyclists, your content is always welcome!